Samsung Launched World's First Transparent and Mirrored Display
Technology company Samsung has recently unveiled world's first transparent and mirrored OLED display panels earlier this week at Hong Kong Convention and Exhibition Centre. Till now you've seen transparent displays in futuristic movies and TV shows and now for the first time they are a reality.
The Samsung Transparent Display presents visuals in Full HD 1920x1080p resolution. This was displayed in a showcase for informational browsing and personalized shopping. The OLED display technology of Samsung is integrated with Intel RealSense technology that makes the viewing experience for users a more enriching and engaging experience.
The RealSense technology of Intel uses 3D cameras to see the people around it and its surroundings. Due to its integration with transparent and mirrored OLED displays, Samsung has created a "virtually fitting room" where customers can see clothing apparel, shoes or jewelry from a different realistic perspective.
The Samsung Mirror OLED display has more than 75 percent reflectance which is 50 percent higher reflectance level than other available Mirror LCDs. This reflective surface that turns into a giant mirror for showing content is based on the same OLED technology used in transparent displays.
Company partnered with the Chow Sang Sang Jewelry company and showcased world's first advanced commercially used OLED panels in retail. The company says that people could also replace their home mirrors using the Samsung Mirror Display.
Samsung describes its possible applications as: "to deliver highly differentiated, exquisitely personalized customer experiences."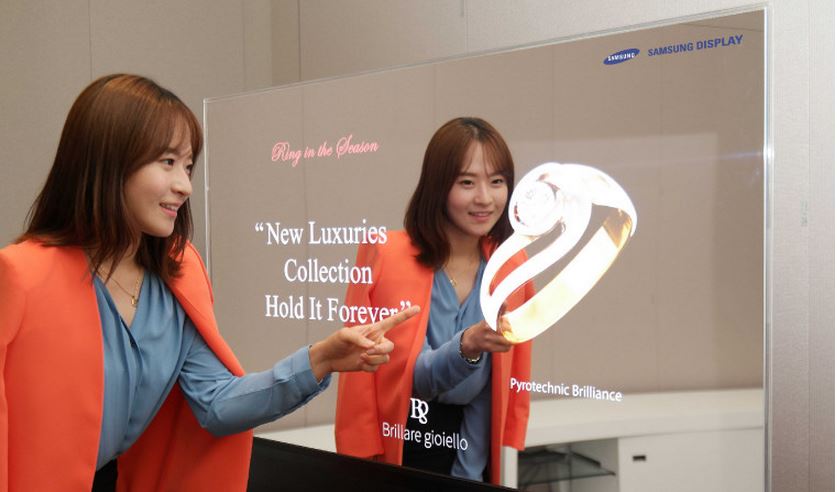 Oseung Yang, vice president, Samsung Display Company said: ""Samsung has a long legacy of leadership in technology innovation for digital signage, as well as for other applications, and we are now leading the next wave of digital signage advancement with our Mirror and Transparent OLED display solutions."
Are you excited to witness transparent and mirror displays in reality? Tell us in comments